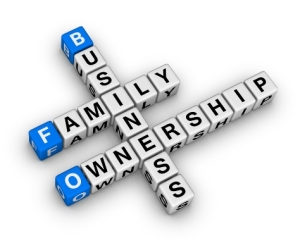 SUCCESSION PLANNING IN FAMILY BUSINESSES CAN BECOME BOGGED DOWN BY EMOTIONAL ENTANGLEMENT
Family is the key word in Family Business. The emotional and historical ties that bind the family together can positively and negatively impact the viability of the Family Business. One of the most effective ways to mitigate the negative aspects of emotional family entanglement is to actively, enthusiastically and diligently engage in the process of succession planning.
Most businesses, family owned or not, appreciate that succession planning requires the involvement of outside advisors. Unfortunately, the tendency is to narrow the advisor support to lawyers, accountants and business consultants. All are essential in order to deal with the hard issues of business development, maintenance, and legacy, but most are ill-suited to address the "soft issues" that permeate family businesses. These soft issues are the hierarchy, power struggles, emotions, personal aspirations, and fears of each family member involved in the business. Family businesses, and those who are actively involved in advising the business on succession planning, would be well served by including an advisor who is able to acknowledge and address the soft issues.
Psychologists are uniquely trained to address the soft issues. Psychologists have the requisite skill set to untangle the emotional and historical ties that bind so that clear lines can be drawn between family and business so that the family and business both thrive through the planning and succession stages. Some of the crucial issues that a psychologist is able to assist with include working with a CEO who is reluctant to retire from the business move from active involvement to advisor to retiree, or aiding the CEO in objectively evaluating family members contributions to the business to then position each family member in the business in a way that maximizes their individual strengths and aspirations, or addressing sibling rivalries especially related to leadership.
Intergenerational transition within a Family Business can be emotionally tumultuous to the detriment of the business. By including an advisor who is able to actively and efficiently address the emotional issues with this transition will ensure that all family members involved in the business recognize that family exists to serve the business; the business does not exist to serve the family. In this manner the business will continue to thrive for generations to come.
CONTACT US
Feel free to contact us at any point for assistance or advice with respect to Business Law, Estate Law, Estate Planning, Estate Administration or Estate Litigation. We may be reached at 705-435-4339 / 1-877-85LEGAL (1-877-855-3425) or contact us via email.