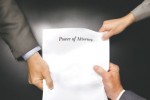 NON-CONTINUING POWER OF ATTORNEY FOR PROPERTY
If your Power of Attorney does not specifically indicate that it is a Continuing Power of Attorney for Property or say that it allows the people you name to continue to act for you in the event of mental incapacity, the Power of Attorney will be valid only so long as you are mentally capable.
CONTACT US
Feel free to contact us at any point for assistance or advice with respect to Estate Law, Estate Planning, Estate Administration or Estate Litigation. We may be reached at 705-435-4339 / 1-877-85LEGAL (1-877-855-3425) or contact us via email.